Welcome to City of Wells

City of Wells....A Great Place to Live!

The City Between Two Rivers.........In the City of Wells, we are defined less by boundaries on a map than by the sense of shared values our residents hold dear. Small town values, guided growth, preservation of historical, cultural, and natural heritage are just a few of the core principles that make City of Wells a wonderful place to call home.

Support the Wells Development Corporation
Perfect to donate in rememberance of a loved one that has passed. Can be used as a charity tax deduction since it is a 501c3 organization. All procedes go toward the city splash pad project.
Featured News
Reminder to Customers - Payment Websie
2/24/2022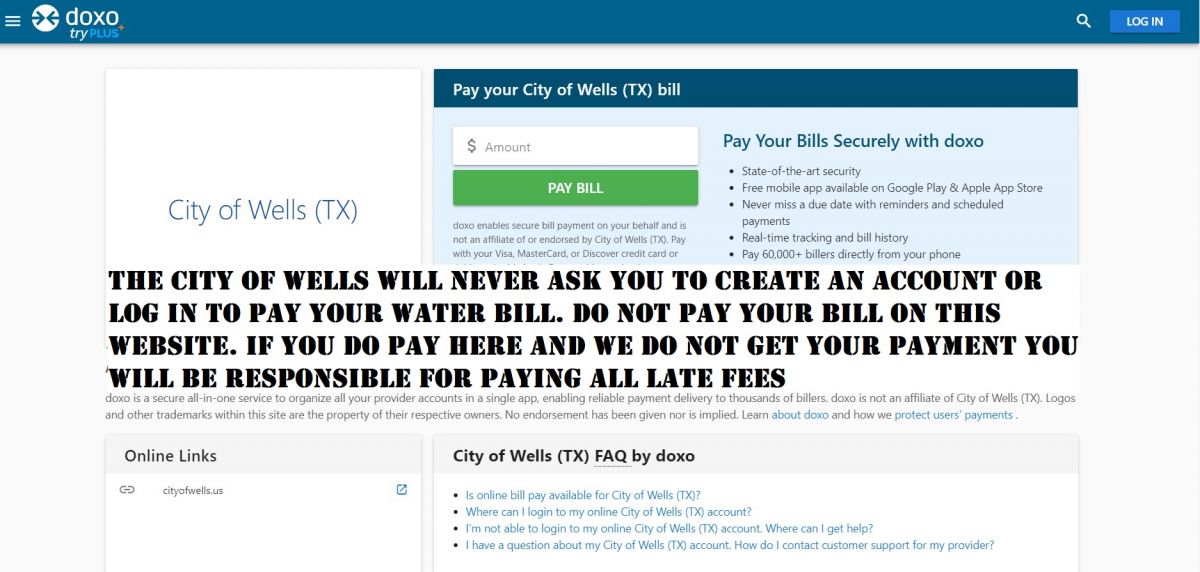 This is the City of Wells' only payment website. When you select "Payment Options on the left-hand side of this page" then select "Pay My Bill Now on the right-hand side of the next page" you will be redirected to "EZNet website".
If you go to the www doxo com website your payment will not get...
Reminder to Customers - Flushiung Wipes
2/24/2022
It is very important NOT to flush any wipes down the commode into our sewer system. This includes wipes that say they are flushable, baby wipes, and disinfecting wipes. Our system can not process them and it will cause damage to the sewer system. If we lose our sewer system the City of Wells...
City of Wells Utility Customers Spring Clean-up
2/24/2022
Click the link for more information.......
Mark your calendar & gather your stuff for the City of Wells Spring Clean Up
Only customers that are currently on the City of Wells utility service are eligible to use the dumpsters.
Help show pride in our Community. Customers may bring their bulk...